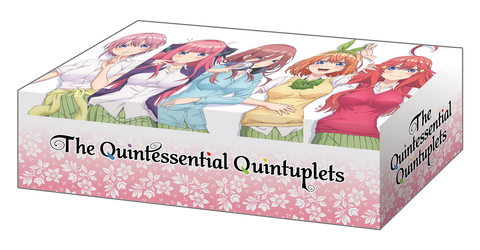 Weiss Schwarz The Quintessential Quintuplets English Quintessential Set (Release Date 19 Nov 2021)
SKU: GC5343
Description
Introducing the Quintessential Set, a pre-constructed set that contains all varieties of cards that were included in the 5 different Japanese edition Trial Deck+ products!
All of the cards in this Quintessential Set are exclusive cards and cannot be obtained anywhere else!
Each set contains 26 guaranteed foils, inclusive of 1 guaranteed SP card per set!
☆SIGN CARDS☆
Every set you purchase contains one of these Sign cards!
◆ Kana Hanazawa (as Ichika Nakano) ◆
◆ Ayana Taketatsu (as Nino Nakano) ◆
◆ Miku Ito (as Miku Nakano) ◆
◆ Ayane Sakura (as Yotsuba Nakano) ◆
◆ Inori Minase (as Itsuki Nakano) ◆
PARALLEL CARDS
Every set contains 1 copy each of all 10 SRs and 15 RRRs!
Each set will also contain 4 copies each of 5 types of PR cards!!!
※The inclusion of the PR cards brings the total number of cards in a set to 381.
The cards in this Quintessential Set may be used together with cards with card number beginning with 「5HY/」!
90 types of cards + 30 parallels
361 Cards per Set, 5 Sets per Carton
65 types – 4 copies
10 types – 3 copies + 1 SR
15 types – 3 copies + 1 RRR
※The contents of each deck (excluding SP cards) are exactly the same.
※ This product is intended for players aged 13 and above.
※ Weiß Schwarz (English Edition) does not include gold/silver campaign coupon.
---
We Also Recommend