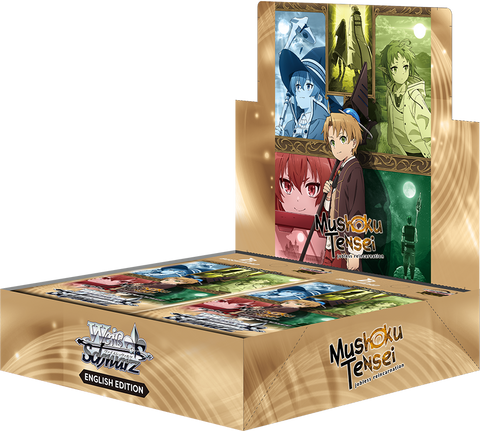 Weiss Schwarz Mushoku Tensei: Jobless Reincarnation English Booster Box (Release Date 11 March 2022)
SKU: GC5566
Description
I'll give it my all even in Weiß Schwarz!
A second chance in life. A second opportunity to work harder and succeed. Now that you have a second chance, will you give it your all? 
Join Rudeus as he grabs the opportunity to earnestly work towards success in our upcoming title:
Mushoku Tensei: Jobless Reincarnation
Every pack you purchase has a chance to contain a hot stamped autographed card by the following members of the cast!
Yumi Uchiyama (as Rudeus Greyrat)
Konomi Kohara (as Roxy Migurdia)
Ai Kakuma (as Eris Boreas Greyrat)
Ai Kayano (as Sylphiette)
Megumi Toyoguchi (as Ghislaine Dedoldia)
☆★☆★☆
The cards in this Booster Pack may be used together with cards with card number beginning with 「MTI/」!
Total 100 types of cards + 36 types (Parallel)
9 cards per pack
16 packs per display box

◆ Box toppers
1 of 5 exclusive PR cards in every display box!
---
We Also Recommend