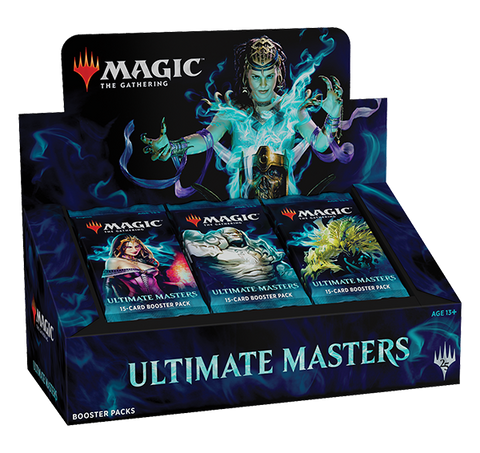 Magic the Gathering Ultimate Masters Booster Box (Release date 07/12/2018)
SKU: GC3131
Description
Ultimate Masters (UMA) brings a host of powerful, sought-after cards—including some of the greatest cards from throughout Magic's history. It's the last Masters set for the foreseeable future, and we're sending the series off with a bang: it's stuffed with iconic cards, including special box toppers.
Each booster box of Ultimate Masters will come with a special foil box topper card, sealed inside the box, with extended art.

The box topper card has a special frame, and its own custom flowwrap. Box toppers include every mythic rare in the set, many of the rares, and two uncommons (Kitchen Finks and Eternal Witness). It's some of the most beloved in Magic's history.
Ultimate Masters is a limited run, premium set that is unique and collectible. Magic's 25th year is ending with a bang, and you don't want to miss out.
Set size: 254 cards
24 packs per box
15-card booster packs, one premium foil per pack
---
We Also Recommend